Brigadier General Aida T. Borras, U.S. Army
Deputy Commanding General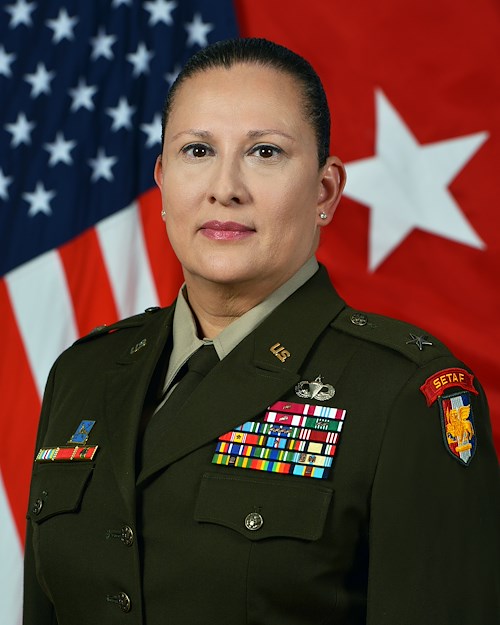 Brig. Gen. Aida T. Borras is the U.S. Army Southern European Task Force, Africa deputy commanding general.
Borras enlisted in the Army in 1985. During her enlisted career, she served as an intelligence Soldier in the Combined Field Army (Republic of Korea-U.S.), the 96th Civil Affairs Battalion (Airborne), the 1st Special Operations Command (Airborne), the Special Forces Command (Airborne) and participated in combat operations during Operation Just Cause.
In 1992, she was selected for the Army's Green to Gold Program and graduated two years later from The George Washington University. She was a distinguished military graduate from the Georgetown University ROTC Program and received her commission as a second lieutenant in the Military Intelligence Corps in 1994. Following completion of the Military Intelligence Officer Basic Course, she was assigned to Detachment O, Foreign Intelligence Activity; the Joint Analysis Center; and the Intelligence & Security Command. Borras transitioned to the Army Reserve in the year 2000. She joined the 3431st Military Intelligence Group as a senior intelligence officer providing intelligence support to information operations. In 2001, she was assessed into the AGR Program as an information operations officer.
Command assignments include: Platoon Leader, Delta Company, 629th Military Intelligence Battalion (CEWI), Maryland National Guard; Company Commander, Headquarters and Headquarters Company, INSCOM Support Battalion (Provisional); Battalion Commander, Army Reserve Element at the 1st Information Operations Command (Land); Battalion Commander, North Central Army Reserve Intelligence Support Center; Brigade Commander, Army Reserve Operational Activity; and Commanding General, Military Intelligence Readiness Command.
Staff assignments include: Intelligence Watch Officer, Joint Analysis Center; Joint Information Operations Planner on the Multinational Force – Iraq staff during Operation Iraqi Freedom; Director, Army Reserve G-39 (Cyber and Information Operations Directorate) on the Office of the Chief, Army Reserve; and Director, Commander's Action Group for the Commanding General, United States Army Reserve Command.
Borras holds a master's degree in strategic studies from the U.S. Army War College, a master's in education from Strayer University, and a baccalaureate degree in international affairs from The George Washington University. She is a graduate of the Jumpmaster Course, the Information Operations Qualification Course, the Combined Arms Services Staff School, the Command and General Staff College, the Defense Strategy Course, the Advanced Joint Professional Military Education Course, the Army War College, the Defense Strategic Debriefing Course, the Army War College Senior Leader Seminar, and, a National Security Management fellowship at Syracuse University.
Borras' awards and decorations include the Legion of Merit (1 oak leaf cluster), Defense Meritorious Service Medal, the Meritorious Service Medal (4 oak leaf clusters), the Army Commendation Medal (3 oak leaf clusters), the Joint Service Achievement Medal, the Army Achievement Medal (1 silver oak leaf), the National Defense Service Medal, the Armed Forces Expeditionary Medal, the Iraq Campaign Medal, the Korea Service Medal, the Armed Forces Reserve Medal with Bronze Hour Glass, the Overseas Service Medal, the Senior Parachutists Badge and the Knowlton Award.