Colonel Keith A. McKinley, U.S. Army
Chief of Staff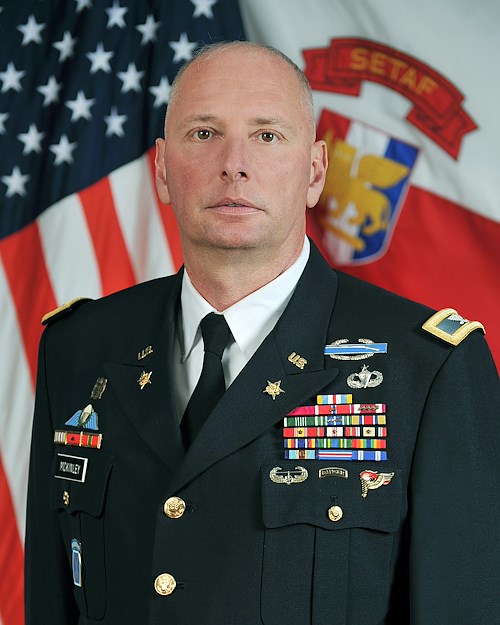 Col. Keith A. McKinley is the U.S. Army Southern European Task Force, Africa chief of staff.
He most recently served as the deputy J5 for U.S. Forces Korea at Camp Humphreys supporting the defense of the Korean Peninsula.
McKinley was commissioned as a second lieutenant of infantry from the ROTC program at Chicago State University in 1993. He began his career in the 101st Air Assault Division at Fort Campbell, Kentucky, where he served as a rifle platoon leader, support platoon leader and anti-armor company executive officer.
As a captain, McKinley was assigned to the United Nations Command-Joint Security Area in Panmunjom, Korea, where he served as the assistant operations officer in support of operations within the Demilitarized Zone. He then commanded two mechanized infantry companies in 2nd Brigade, 2nd Infantry Division at Camp Hovey, Korea. McKinley then served at the Joint Readiness Training Center at Fort Polk, Louisiana, where he served as an infantry platoon, battalion logistics, and brigade level observer/controller.
He later served in the 1st Brigade, 10th Mountain Division at Fort Drum, New York, as an assistant brigade operations officer, squadron operations officer and executive officer, and deployed to northern Iraq in support of Operation Iraqi Freedom. Following his time with the division, he served as the U.S. Army Africa Secretary of the General Staff in Vicenza, Italy.
McKinley commanded 1st Squadron, 71st Cavalry Regiment, 1st Brigade, 10th Mountain Division at Fort Drum, New York. He then served as the Deputy Brigade Commander for 3rd Brigade, 10th Mountain Division and deployed in support of Operation Enduring Freedom to Regional Command - East. After completing the U.S. Naval War College, he served as the G3 deputy chief of staff for U.S. Army Japan at Camp Zama, Japan, where he worked in supporting operations within the U.S. Indo-Pacific Command area of responsibility.
McKinley served his brigade command assignment as commander of Joint Task Force – Bravo in Honduras, where his organization conducted operations and theater security cooperation activities throughout Central America.
McKinley earned a bachelor's degree in mathematics education from Indiana University Northwest, a master's degree in human resource administration from Central Michigan University, and a master's degree in national security and strategic studies from the U.S. Naval War College.
McKinley's awards and decorations include the Defense Superior Service Medal, Legion of Merit, Bronze Star Medal (2 awards), Meritorious Service Medal (5 awards), Army Commendation Medal, Army Achievement Medal (7 awards), Combat Infantryman Badge, Senior Parachutist Badge, Pathfinder Badge, Air Assault Badge and the Ranger Tab. Foreign awards include the Honduran Merit Medal, Afghan Meritorious Service Award, Japan Defense Cooperation Award and the New Zealand Parachutist Badge.
Other pages in this section