Major General Todd R. Wasmund, U.S. Army
Commanding General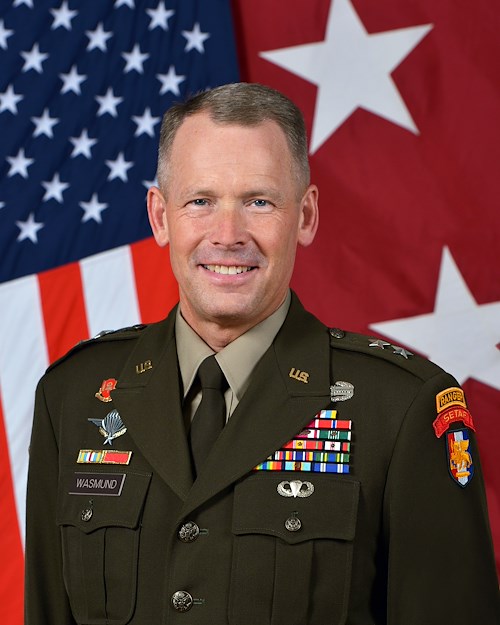 Major General Todd R. Wasmund serves as the commanding general of the U.S. Army Southern European Task Force, Africa (SETAF-AF) in Vicenza, Italy; he also serves as the deputy commanding general for Africa of the U.S. Army Europe and Africa (USAREUR-AF).
Commissioned into the Field Artillery in 1991 upon graduation from the United States Military Academy, he has served in a variety of positions throughout the United States, Europe, South Korea and Asia.
Most recently, he was the first U.S. General Officer selected as an exchange officer with the French Army where he served as the Deputy Commanding General – Operations of the 3rd (French) Division in Marseille, France. Prior to his assignment in France, he served as Deputy Commanding General (Support) of the 1st Infantry Division at Fort Riley, Kansas, and during that assignment he commanded the Division Headquarters (Forward) in Poland in support of Operation Atlantic Resolve.
During previous opportunities to command, MG Wasmund had the privilege to lead Soldiers on a Border Transition Team in Iraq in support of Operation Iraqi Freedom, and he later commanded the 1st Battalion, 17th Field Artillery in the United States and in Afghanistan in support of Operation Enduring Freedom. In Afghanistan, he also served simultaneously as the Chief of Staff of the Combined Training Advisory Group – Army in support of the NATO Training Mission – Afghanistan. He later commanded the 3rd Infantry Division Artillery Brigade at Fort Stewart, Georgia.
MG Wasmund's staff experience includes Chief of the Joint Staff, J35, Joint Operations Division in support of U.S. Africa Command and Chief of Staff of the Fires Center of Excellence and Fort Sill in Oklahoma.
He received a bachelor's degree from the U.S. Military Academy and advanced degrees from the U.S. Naval Postgraduate School and the Dwight D. Eisenhower School at the National Defense University, and he served as an Instructor and Assistant Professor of Economics at the U.S. Military Academy.
His awards include the Defense Superior Service Medal, Legion of Merit, Bronze Star Medal, Combat Action Badge, Ranger Tab, Parachutist Badge, French Parachutist Badge, and Joint Chiefs of Staff Identification Badge. He is a member of the U. S. Army Field Artillery Ancient and Honorable Orders of Saint Barbara and the U.S. Army Armor Order of Saint George, and he is recognized by the French Army as an Honorary Corporal of the Artillery.
MG Wasmund and his wife are most proud of their five children and eight grandchildren.
Other pages in this section