Deputy Commanding General
Brigadier General Brian Cashman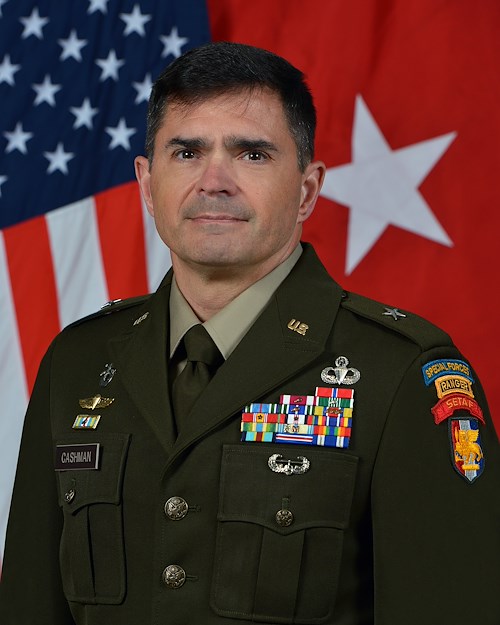 Brigadier General Brian Cashman serves as the Deputy Commanding General, U.S. Army Southern European Task Force, Africa. Prior to his current assignment he served as the Deputy Director, J3, and Acting Director, J5, United States Special Operations Command. BG Cashman graduated from the University of Massachusetts as an Army ROTC Distinguished Military Graduate in 1990 with a Bachelor of Science Degree.
BG Cashman's military education includes the U.S. Army War College with a Master's degree in Strategic Studies, Joint and Combined Warfighting School - Hybrid, Command and General Staff College, Civil Affairs Course, Special Forces Officer Qualification Course, Army Ranger Course, and United Nations Senior Mission Leaders' Course.Prior to his Army Reserve assignments, BG Cashman spent 11 years in the Active Army in a variety of command and staff assignments with both conventional and Special Operations Forces. His deployments include Operation SUPPORT HOPE in Uganda and Rwanda, counter-narcotics and combating-terrorism missions in the SOUTHCOM AOR, and Operation ENDURING FREEDOM-A.
As an Active Army Officer, BG Cashman served as an Air Defense Artillery Platoon Leader and Company Executive Officer with 1st Air Defense Artillery and 148th Ordnance Company in Germany. He then served in Italy with the 3rd Battalion, 325th Airborne Battalion Combat Team and as the Executive Officer for the newly formed Forward Support Company within the Southern European Task Force. Following graduation from the Special Forces Qualification Course, he commanded three Special Forces Operational Detachments – Alpha at Fort Bragg, Panama, and Puerto Rico with the 7th Special Forces Group (Airborne).
Following his transition from the Active Army in 2001, BG Cashman served in the Army Reserves as a plans officer in the 358th Civil Affairs Brigade, an Operations Officer within the Deputy Director for Special Operations on the JCS, and as a Section Leader and Operations Officer for the U.S. Army Reserve Counterterrorism Unit in Washington, DC. During OEF, he mobilized in support of Task Force 714 in Afghanistan. Other Army Reserve assignments include Inter-Agency Task Force Operations Officer within USSOCOM, Coordinator for Civil Affairs at ASD SO/LIC, Civil Affairs Officer within the U.S. Army Civil Affairs & Psychological Operations Command (Airborne), and Faculty Instructor & Course Author at the United States Army War College.
BG Cashman's awards and decorations include the Defense Superior Service Medal, Bronze Star Medal, Meritorious Service Medals, Army Commendation Medals, Joint Service Achievement Medal, Afghanistan Campaign Medal, Global War on Terrorism Service Medal, Master Parachutist Badge, Air Assault Badge, Special Forces Tab, and Ranger Tab.BG Cashman and his wife have a daughter.
Other pages in this section