Major General Andrew M. Rohling, U.S. Army
Commander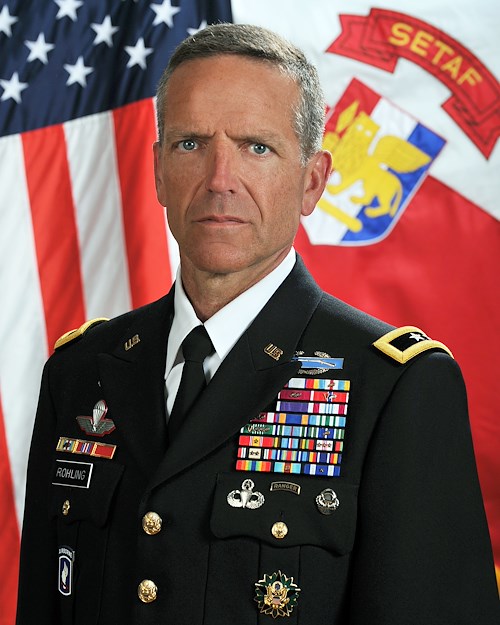 Maj. Gen. Andrew M. Rohling is the U.S. Army Southern European Task Force, Africa commander and the U.S. Army Europe and Africa deputy commanding general.
Rohling graduated with a degree in engineering from the University of South Florida in Tampa, Florida, and was commissioned as a second lieutenant of infantry in 1989.
His first assignment was as a platoon leader in the 7th Infantry Division at Fort Ord, California, where he participated in Operation Just Cause in Panama.
He subsequently served in the 1st Ranger Battalion, 75th Ranger Regiment in Savannah, Georgia; 1st and 3rd Infantry Divisions in Germany; 6th Ranger Training Battalion in Florida; and as a Vietnam MIA/POW team commander for Joint Task Force-Full Accounting in Hawaii.
Upon completing his study at the Command and General Staff College at Fort Leavenworth, Kansas, Rohling served in Vicenza, Italy, with the Southern European Task Force (Airborne), and deployed for two tours in Iraq and Afghanistan with the 173rd Airborne Brigade during operations Iraqi Freedom and Enduring Freedom. He subsequently commanded the 3rd Battalion, 187th Infantry (Rakkasans), at Fort Campbell, Kentucky, and in Operation Iraqi Freedom before becoming the infantry branch chief and attending the National War College at Fort McNair, Virginia.
Rohling returned to Italy to command the 173rd Airborne Brigade and again deployed to Afghanistan for Operation Enduring Freedom. His post-command assignment was as coordination group director and executive officer for then-Army Chief of Staff Gen. Ray Odierno.
Following that assignment, Rohling served as the 10th Mountain Division deputy commanding general, and the Advise and Assist Command commander in Helmand, Afghanistan, during Operation Freedom's Sentinel. He then served as the Allied Rapid Reaction Corps deputy chief of staff - operations, in the United Kingdom.
Prior to assuming command of SETAF-AF in July 2020, Rohling served as the U.S. Army Europe deputy commanding general.
Other pages in this section